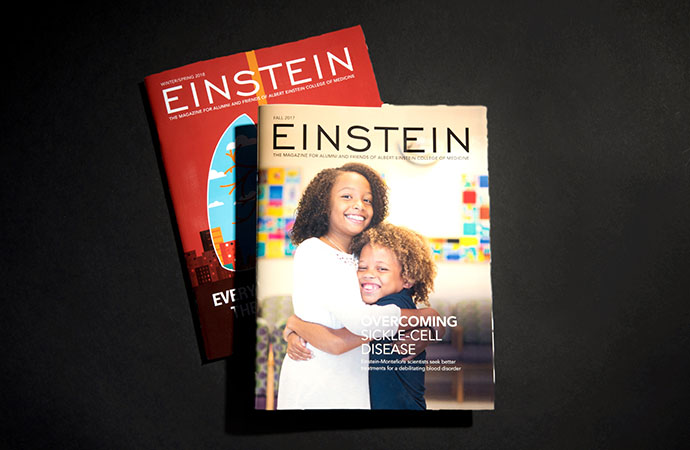 Einstein Magazine, Print and Digital Editions
Albert Einstein College of Medicine

Over the past few years, Albert Einstein College of Medicine has been transitioning from its former university parent, Yeshiva University, to its longtime clinical partner, Montefiore Medical Center. The goal of these magazine editions was to demonstrate that Einstein magazine can do more to explain, promote, and celebrate the new relationship and how it improves education, research, and clinical care. Simultaneously, the team wanted to increase readership and keep the purpose of the magazine in mind: improving pride and morale, engaging donors and alumni, and positioning Einstein-Montefiore as a premier research-intensive medical school and academic medical center while emphasizing the social mission of this new joint enterprise.
To that end, the Fall 2017 and Winter/Spring 2018 issues of Einstein magazine, both print and digital, showcased the shared dedication of Einstein-Montefiore to social justice. The cover articles for both issues focused on two diseases that affect minority populations disproportionately: sickle cell and asthma. Einstein-Montefiore's researchers and clinicians have made significant advances in the understanding, prevention, and treatment of both disorders, which particularly affect the vulnerable populations in the Bronx community.
In addition to a reinvigorated approach to editorial, promotional efforts were increased, including a social media ad campaign, framed wall ads, and more magazine racks. Thanks to those efforts, copies of the Fall 2017 issue ran out and the print run for Winter/Spring 2018 was doubled. Online page views jumped, digital subscribers were added, social media reach widened, and survey responses increased.
What was the most successful part of the magazine editions?
Our editors and designers worked together to strategize on developing the best content to support our goal of linking Einstein research with Montefiore patient care.
What is one thing you learned from this experience?
We learned the importance of measuring success: How to devise specific goals, promote the digital and print products, and analyze the results.
Contact
Susan Byrne, susan.byrne@einstein.yu.edu