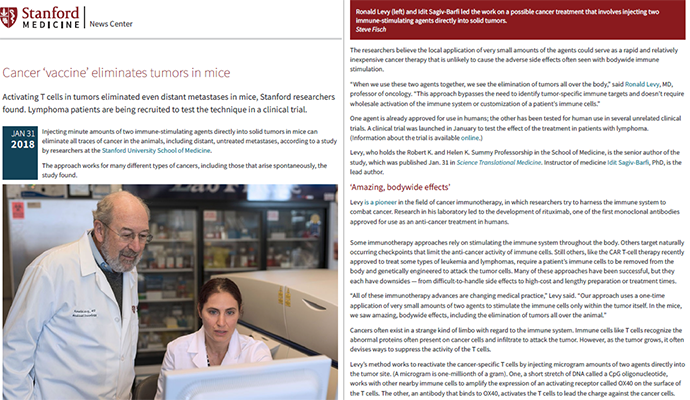 "Cancer 'Vaccine' Eliminates Tumors in Mice" by Krista Conger
Stanford University School of Medicine
The researcher, Ron Levy, reached out to Conger in late 2017 to let her know about the upcoming paper describing a new cancer immunotherapy. Although his research was conducted only in mice, the results were startling. Many mice were seemingly cured of their cancers, and the technique could even prevent the development of future spontaneous tumors in a mouse breast cancer model. Conger realized that this research was potentially transformative in the cancer immunotherapy world. But it was also confined to mice. "The challenge (and my goal) was to convey the excitement of the findings without sensationalizing the results," Conger said.
What was the most successful part of your news release?
The incredible reach of this story, which continues to strike a chord with readers around the world.
What is one thing you learned from this experience?
It's important to plan how to handle an outpouring of interest from desperate patients even when reporting on preclinical findings.
Contact
Susan Ipaktchian, susani@stanford.edu