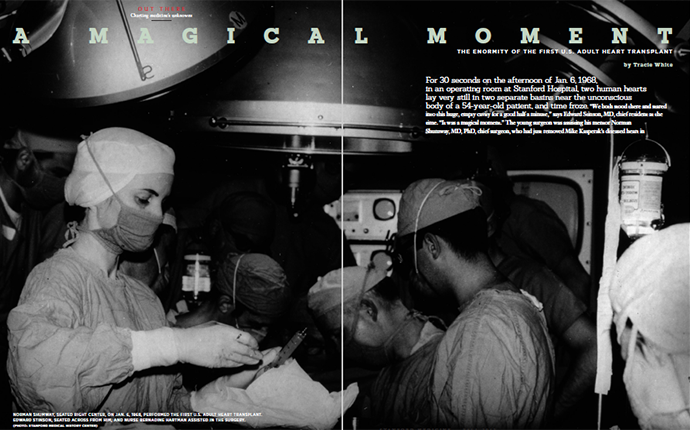 "Magical Moment" by Tracie White
Stanford Medicine Magazine
Stanford University School of Medicine
"Magical Moment" is a feature by staff writer Tracie White. It was part of a theme package on charting unknown territory in medicine. It describes the scene that took place 50 years ago when the first adult heart transplant in the United States was performed at Stanford Hospital.
This article was written to bring to life one of the biggest days in history for Stanford and the world of medicine. It also reminds readers of the donor and the patient and the importance of their stories to the future success of heart transplants. White began her reporting by interviewing Edward Stinson, the now-famous assisting surgeon to Norman Shumway on the day of the first heart transplant. Stinson, who is shy and rarely speaks with media, hit it off immediately with White.
What was the most successful part of your feature?
My interview with the assisting surgeon Ed Stinson, a brilliant, shy man, who opened up and shared the emotions from that day.
What is one thing you learned from this experience?
I learned how brave the patients and their families were to participate in this groundbreaking experiment facing so many unknowns.
Contact
Susan Ipaktchian, susani@stanford.edu