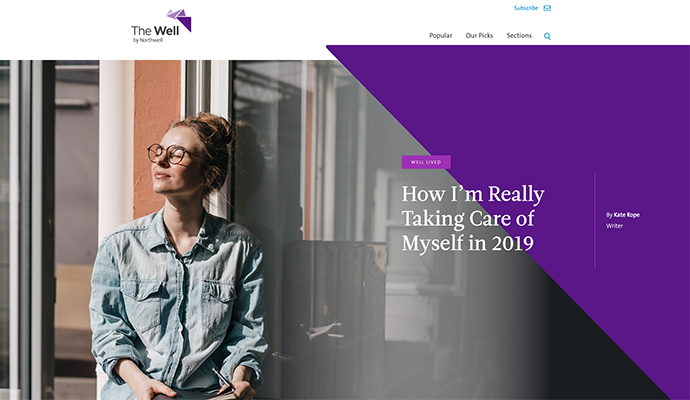 The Well
Northwell Health
The Well is Northwell Health's commitment to the future of health care. In this time of information overabundance, much of which is inaccurate, unhelpful, or even difficult to understand, Northwell wanted to create a digital storytelling platform that was honest, trustworthy, and caring. The goal was to connect with consumers to provide them with personalized content that reduces their stress, makes them laugh, and ultimately makes them feel more confident and capable on their health care journey.
The Well is about meeting the audience in the moment — through content tailored to life's planned and unpredictable events. Hyper-local media campaigns for each piece of content were produced so it's personalized to the people who need it most. Working with an in-house content team, paired with nationally renowned journalists, photographers, and visual artists, the team sought to create content that demystified health care topics and ultimately put the human back in health care. An editorial site was created that took our readers on a journey to the medical unknown, including first-person narratives of what it's like to live with breast cancer, how medical staff handle unexpected deaths, and a behind-the-scenes look at what happens inside a hospital.
In just one year, The Well reached more than 1 million page views, more than 500,000 unique users, 10-20x media spend efficiency, and email open rates of 40% and drove 10% referral traffic to the main hospital website.
Learn more at northwell.edu/thewell.
What was the most successful part of this website?
Creating a moment-based content strategy that met the audience in the right moment in their life.
What is one thing you learned from this experience?
Hyper-local targeting works. Why build a broad audience of millions when you can build a million audiences of the right ones?
Contact
Gina Czark, gczark@northwell.edu