We are delighted to announce the 2022 Brownie Award recipients from the AAMC Central Group on Educational Affairs, Dr. Emily Abdoler and Dr. Stacey Pylman.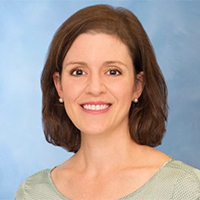 Emily Abdoler, MD, MAEd
Assistant Professor of Medicine at the University of Michigan Medical School
She works clinically in adult Infectious Diseases, is co-director of the Infectious Diseases & Microbiology course for medical students, and is co-lead of an Active Learning initiative within the preclinical medical school curriculum. She currently serves on the Education Committee for the Infectious Diseases Society of America (IDSA) and on the Infectious Diseases Milestones Working Group for the Accreditation Council for Graduate Medical Education (ACGME).
She earned her degree in medicine from the University of Michigan Medical School. Prior to medical school, she was a pre-doctoral fellow in Bioethics at the National Institutes of Health Clinical Center. She completed a residency in Internal Medicine and fellowship in Adult Infectious Diseases at the University of California, San Francisco (UCSF). While at UCSF, she also completed an advanced fellowship in Health Professions Education Evaluation and Research at the San Francisco VA Health Center and received her Masters in Education with a Health Professions emphasis through the University of California, Berkeley.
In her free time, she enjoys running, cooking, and spending time with her family.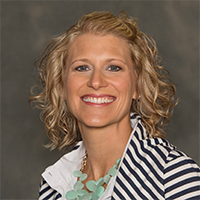 Stacey Pylman, PhD
Assistant Professor in OMERAD
Stacey Pylman is an assistant professor in the Office of Medical Education Research and Development (OMERAD). Her primary role is instructional coaching and faculty development for College of Human Medicine (CHM) faculty. She leads the Medical Educator – Excellence in Teaching (MEET) Certificate Program for CHM faculty. She also works directly with MSU faculty, community faculty, and faculty across the nation on teaching and learning projects that focus on teaching effectiveness, precepting skills, active learning strategies, online teaching, and student learning. Pylman received her doctorate in Teacher Education at the College of Education at Michigan State University. She has published her scholarship in top-tier journals such as The Journal of Teacher Education and Medical Teacher.  Pylman is also editor of OMERAD's Vital Signs eNewsletter and manages the DR-ED Listserv. 
Scholarly Work and Areas of Interest
Pylman's research focuses on instructional coaching for teachers and innovative curriculum development for medical students. In her instructional coaching research she investigates ways to help medical educators (MEs) develop as excellent teachers, help them embrace their identity as teacher, and to describe what excellent teaching looks like in medical education today. She is currently involved in research projects looking at early clinical experience debriefing and professional identity development, effective teaching in medical education, and instructional coaching. In her innovative curriculum development research she creates and/or evaluates curricular innovations and disseminates the projects through scholarship. Currently, she is working with a team of researchers on a Blue Cross Blue Shield of Michigan Foundation grant project studying an intervention to increase empathy in third-year medical students. She also researches educator development or coaching practices that she and her colleagues use to help educators (medical and general) develop as ambitious teachers. Pylman's teaching and research interests in medical education include effective teaching practices, clinician-educator action research, co-teaching, instructional coaching, active learning, questioning, instructional design, and clinician-educator teacher identity development.
Service
Pylman currently serves as a member-at-large on The Generalists in Medical Education Steering Committee, as the CGEA Faculty Development SIG recorder, and as the CHM representative on the Michigan Peer Coaching Collaborative Committee.

Congratulations to the both of you!