Editor's note: The opinions expressed by the author do not necessarily reflect the opinions of the AAMC or its members.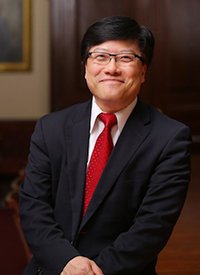 Over the five decades that I have lived in this country, I have witnessed political shifts of considerable magnitude. Yet none have inspired such deeply personal misgivings as the White House's executive orders restricting immigration and rescinding the Deferred Action for Childhood Arrivals (DACA) program. The physician son of an immigrant physician father, I know that the diverse perspectives and abilities of immigrants contribute to our nation's health and well-being. And I believe that the administration's recent policies and rhetoric pose a serious threat to patient care, medical education, and biomedical research—and that they threaten to renege on the great promise of the American dream.
When my father decided to leave a successful career as a cardiothoracic surgeon in Seoul, he was motivated by the prospect of a better education for his four children. My family left South Korea in 1966 for the jungles of Malaysia, where my father ran a clinic for five years, and then headed for the United States.
Like many other foreign medical school graduates, my father had to retrain in middle age, even though he had performed the first heart bypass surgery in Korea. I was 12 when we arrived, and it took me a year to understand English. The lessons in self-sacrifice and resilience I learned from watching my father form the foundation of what I consider the "immigrant mentality," one that fosters hard work, determination, and commitment.
Contributions to patient care
As of 2010, more than one-quarter of physicians and surgeons practicing in the United States was foreign born, according to the Migration Policy Institute. This population is crucial to the U.S. health care workforce, given current provider shortages and an AAMC estimated shortfall of between 40,800 and 104,900 physicians by 2030.
Unfortunately, the administration's travel restrictions on citizens from eight countries is likely to make it more difficult for many highly skilled physicians, scientists, trainees, and students from around the world to gain entry to the United States. The loss of this talent pool would negatively affect clinical care and medical education in this country. And I believe it would be especially detrimental for members of racial and ethnic minorities who already suffer from health inequities.
"The United States has always been a nation of immigrants, and it owes the next generation of medical and scientific leaders the opportunity to build a better future for themselves and for us all."
A diverse and culturally competent health care workforce may improve the quality of care minority populations receive. For example, being an immigrant or the child of an immigrant can help a physician relate to and better communicate with patients from similar backgrounds. It can also make a provider or researcher more attuned to the effects of education, employment, socioeconomic status, racism, and discrimination on mental and physical well-being.
Racial and ethnic diversity are extremely valuable among medical school students as well—they enrich the educational experience for all students, noted a study published in Academic Medicine in 2015. In addition, medical students from underrepresented minority backgrounds are more likely to plan to practice in underserved communities, according to a study of 20,000 U.S. medical students published in JAMA in 2008.
Benefits to biomedical science
A large body of evidence has shown that varied skills and perspectives help groups increase productivity and achieve better results. In fact, diversity in the scientific workforce is about much more than fairness, argued National Institutes of Health (NIH) Director Francis Collins, MD, and NIH Chief Officer for Scientific Workforce Diversity Hannah Valantine, MD, in a 2015 commentary. "[R]ecruiting and retaining a diverse set of minds and approaches is vital to harnessing the complete intellectual capital of the nation," they wrote.
Foreign medical graduates account for a substantial proportion of U.S. biomedical scholarship. They have contributed to nearly one-fifth of research articles and serve as principal investigators for 12.5% of NIH grants and 18.5% of clinical trials, according to an analysis published in the Annals of Internal Medicine in 2017.
Already, uncertain government funding for research poses a considerable threat to scientific inquiry in this country. Immigration policies and rhetoric that diminish our research talent are likely to strike an additional, serious blow to our scientific enterprise and to U.S. competitiveness on the global stage.
The next generation
DACA is set to end March 5, 2018, unless lawmakers can negotiate a compromise. Approximately 690,000 young undocumented individuals are enrolled in the program, which grants work permits and freedom from deportation to people brought to the United States as minors. DACA recipients have overcome substantial obstacles, with sizeable numbers studying at institutions of higher education and about 14,000 employed in health care practitioner and support jobs, according to the Migration Policy Institute. These skilled workers are essential in addressing the needs of our growing, aging population.
Hard work and determination bring immigrants to this country, and those traits often translate into the hard work and determination necessary to succeed. The United States has always been a nation of immigrants, and it owes the next generation of medical and scientific leaders the opportunity to build a better future for themselves and for us all. We need policies and rhetoric that welcome diverse individuals who enrich our country through their talent and fortitude.