Season 5, Episode 1
The most recent tragic murders throughout the United States at the hands of gun violence are heartbreaking. These assaults once again vividly illustrate the all-too-familiar consequences of how gun violence continues to plague our nation, and they are also a reminder of how homicides, suicides, and unintentional injuries with firearms take an overwhelming daily toll on our communities. These preventable tragedies will continue to be inevitable as long as lawmakers continue to choose inaction over reasonable protections to keep our children and our communities safe. 
In the latest episode of "Beyond the White Coat," AAMC President and CEO David J. Skorton, MD, and Roger A. Mitchell Jr., MD, chair of the Department of Pathology at Howard University College of Medicine, have a compelling and informative conversation on gun violence as a public health crisis and how the academic medicine community can come together to address prevention.
The podcast is also available on Apple Podcasts, Google Podcasts, Spotify, or wherever you regularly stream podcasts.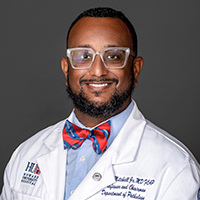 Episode Guest:
Roger A. Mitchell Jr., MD, chair of the Department of Pathology at Howard University College of Medicine
Episode Credits:
Host: David J. Skorton, MD, AAMC president and CEO 
Executive Producers: Susan Cato and Victoria Rivas-Vazquez
Producer: Laura Zelaya
Writers: Brooke Bergen, John Buarotti, and Kristin Zipay
Co-producers: Sholape Oriola and De'Angello Powe
Editor: Laura Zelaya
Digital Copy Editors: Elena Marinaccio-Frame and Michelle Zajac
Social Media Managers: Rachel Bunn, Kayla Spencer, and Michelle Zajac
Web Editor: Victoria Gunawan
Project Manager: Pearl Suh
Branding: De'Angello Powe
You Might Also Be Interested In: