New section
New section
Medical Research Funding and Regulation
Federal investment in medical research and the biomedical research workforce is a national priority and the beginning of hope for patients suffering from serious illnesses like cancer, diabetes, Alzheimer's disease, depression, and Parkinson's disease.
Medical schools and teaching hospitals conduct nearly 55% of all extramural research funded by the National Institutes of Health (NIH). These institutions also partner with the Department of Veterans Affairs (VA) to conduct veteran-focused research, and with the Agency for Healthcare Research and Quality (AHRQ) and the Patient-Centered Outcomes Research Institute (PCORI) to bring that all this research to patients and their communities.   
The AAMC is committed to securing sustained, predictable growth in funding for biomedical research and to ensuring that all research is conducted in accordance with the highest ethical and scientific standards and meets all applicable regulations, while also working to those regulations do not stifle scientific discovery.  
Our Research Issues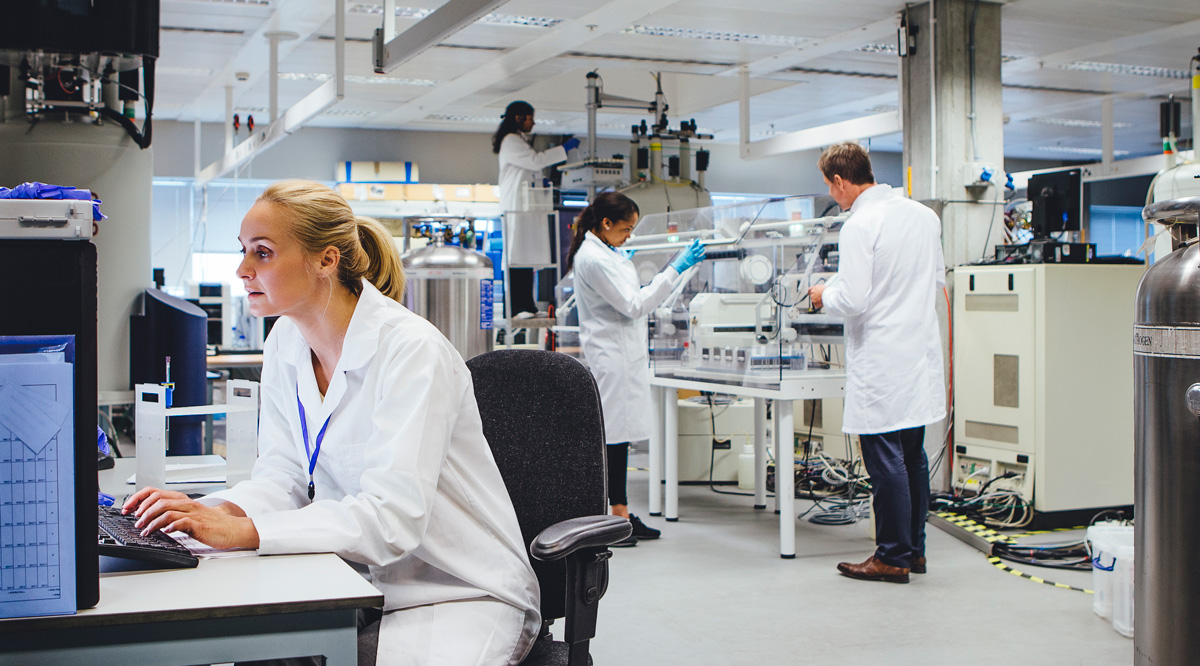 We work to ensure that our members' perspectives are incorporated into federal legislation and regulation on issues such as implementation & dissemination research, health care delivery research, community & population research, and more.
The Benefits of Medical Research
The Value of NIH-Funded Research at Medical Schools and Teaching Hospitals
Download the infographic illustrating how NIH-funded research leads to better health and economic growth.
 
Fetal tissue has led to vital biomedical research advances, but new restrictions may severely curb both its use and scientific progress.
September 24, 2019
More than 10 million people a year could die from antibiotic-resistant bacteria, warns a United Nations report.
August 27, 2019
A researcher behind a groundbreaking depression treatment talks about the early days of research, the medication's limitations, and its effects on depression.
April 9, 2019
From Iron Man-like suits to implanted electrical stimulators, scientific breakthroughs hold out new hope for people with spinal cord injuries.
January 7, 2019
Department of Veterans Affairs (VA) Medical Centers work together with medical schools and teaching hospitals to tackle timely issues.
October 4, 2018
The AAMC, with the Ad Hoc Group for Medical Research and other organizations, held an event on Capitol Hill to celebrate NIH-supported biomedical innovation.
June 21, 2018
A genetic disease prevented Noah and Alexis Beery from having a typical childhood, but that changed when genomic sequencing led to a diagnosis.
February 27, 2017
Facilities and Administrative (F&A) or Indirect Costs
The AAMC's Heather Pierce, JD, takes a deep dive into conflict of interest and Convey®, an innovative tool that streamlines research-funding disclosures.
February 18, 2019
F&A (Facilities and Administrative) costs are foundational—they pay for costs an institution incurs because of the research conducted. 
May 30, 2017
Understanding the Real Costs of Research
The ins and outs of funding life-saving medical research explained in less than 6 minutes.
Costs of Research
Download an infographic describing what Facilities and Administrative costs cover, and what they don't.
Research-focused Coalitions
Ad Hoc Group for Medical Research
The Ad Hoc Group, convened by the AAMC, is a collation of more than 300 organizations that support enhancing the federal investment in biomedical research conducted and funded by the NIH. 
Friends of VA Medical Care and Health Research
FOVA was founded over 30 years ago to ensure that America's veterans receive high-quality health care. Today, FOVA is a diverse coalition representing national academic, medical, and scientific societies; voluntary health and patient advocacy groups; and veteran-focused associations. 
New section
Understand the Issues & the Policies
Find out why sustained federal investment in medical resarch is crucial to improving health and health care.
New section
Data & Reports
More Data & Reports
Resources on topics related to medical research funding and regulation.
Advocacy-Related News & Insights