With increasing competition for residency slots, fourth-year medical students are applying to more programs to maximize their chances of matching. But can a student submit too many residency applications? According to new research from the AAMC, there is a point — known as the point of diminishing returns — at which submitting one additional application results in a lower rate of return on the applicant's likelihood of entering a residency program.
The number of applications it takes to reach the point of diminishing returns varies based on specialty and USMLE Step 1 scores. AAMC researchers analyzed data from applicants who applied to select specialties through the Electronic Residency Application Service® (ERAS®) between 2012 and 2017. They measured the relationship between the number of programs a student applied to, USMLE Step 1 scores, and the likelihood of matching and found a point of diminishing return for 19 specialties: anesthesiology, dermatology, diagnostic radiology, emergency medicine, family medicine, general surgery, internal medicine, internal medicine-pediatrics, neurology, obstetrics and gynecology, orthopedic surgery, otolaryngology, pathology, pediatrics, plastic surgery-integrated, psychiatry, radiation oncology, urology, and vascular surgery-integrated.
The new data offers a benchmark that applicants can use in deciding how many and which programs to apply to, according to Atul Grover, MD, PhD, AAMC executive vice president. "It's part of the overall effort in the transition to residency to help applicants get information on applying to programs strategically," Grover said, adding that students should consider grades, career goals, letters of recommendation, and other qualifications in determining which programs to apply to and how many applications to submit.
On average, applicants with higher USMLE Step 1 scores require fewer applications to reach the point of diminishing returns compared with applicants who have lower USMLE Step 1 scores. For example, U.S. MD applicants to pediatrics residency programs with a USMLE Step 1 score higher than or equal to 235 had an 86% chance of matching if they applied to about 13 programs. Additional applications beyond this point did not increase an applicant's chance of entering residency. The likelihood of matching for U.S. MD seniors applying to pediatrics residency programs with USMLE Step 1 scores between 216 and 234 was 85% if they applied to 15 programs.
Applicants to pediatrics programs whose USMLE Step 1 scores were less than or equal to 215 had an 80% chance of entering residency after applying to 22 programs. The study did not differentiate whether applicants entered residency through the National Resident Matching Program® Main Residency Match® or the Supplemental Offer and Acceptance Program®.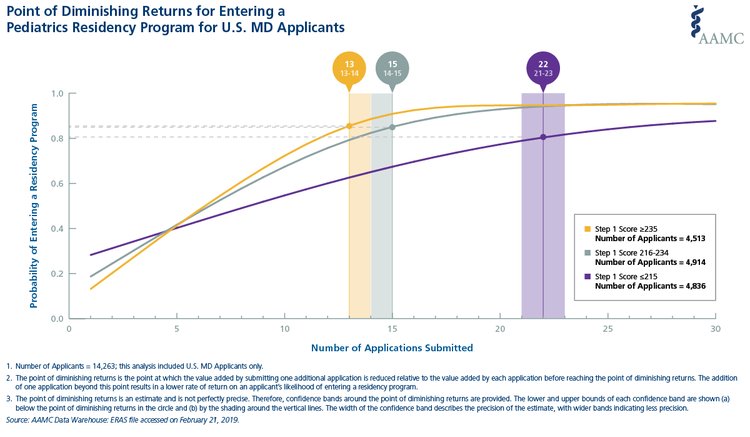 In addition, students applying to competitive specialties, on average, had to submit more applications to reach the point of diminishing returns compared with those applying to primary care specialties. 
Developing a strategy
While the new data is not intended to give students a "magic" number of applications to submit, they can guide discussions between advisors and students, said Geoffrey Young, PhD, AAMC senior director of student affairs and programs. "The data provides greater insight into how advisors can support their students and how the applicants can think about applying to residency programs," Young said. "This is a way we can take some of the myth out of the whole process, while recognizing that students are going to continue to be anxious about the Match®."
In addition to considering the new data, the AAMC suggests several steps for students to follow when developing an application strategy:
Understand the wide range of specialty and practice options available to physicians.
Gauge your competitiveness and candidacy.
Determine which specialty or specialties are right for you.
Research residency programs in your preferred specialty or specialties.
Determine how many and which residency programs to apply to.
Create an effective residency application and prepare for program interviews.
Kathleen Kashima, PhD, senior associate dean of students at University of Illinois College of Medicine, encourages students to "spend time trying to make this decision." One of the hard parts of advising, according to Kashima, is that it's impossible for advisors to know about every specialty and every program. She suggests students talk with faculty, including people who are familiar with specific residency programs. "It's important to have people who know that information and make sure the students are connecting with them. I think [students] are much more confident about their plans when they have a team of people," she said. "One of the key things we've found is that students will tend to apply to lots of programs when they don't have information."
The new data will help faculty who discuss options with students understand the current Match environment, which is critical, Kashima noted. "We have people who have been in these [specialties] for quite some time, but they're not always knowledgeable about the changes that have gone on in the residency application process," she said, describing a case of a faculty member who suggested a student apply to only a handful of programs.
"If a student says, 'I'm going to apply to five more places,' we'd like this data to help them pick the five places where they are more likely to match and where they're going to be more successful and happy."

Atul Grover, MD, PhD
AAMC
When Colleen Fearon, MD, applied for residency in 2016, she didn't have a concrete strategy. Her advisors suggested she apply to between 15 and 20 programs. She submitted about 35 applications, applying to all internal medicine programs in Georgia, where she lived, as well as programs where she had taken electives as a visiting student. "It was a lot of stress when the application cycle opened because I didn't have everything prepared," said Fearon, a 2017 Morehouse School of Medicine graduate.
Fearon had about 12 interviews and used them as opportunities to talk to residents and look for the program that would be the best fit for her. "I talked to the residents to see if they were happy. And I [chose programs] where I felt at home and believed I would get the education I needed." On Match Day, Fearon learned she would complete her internal medicine residency at her top choice — Loma Linda University Medical Center in Loma Linda, California, where she had completed a visiting rotation.
The goal is for students to get more information so that they will focus on programs with missions that align with their career goals, regardless of how many programs they apply to, Grover said. "If a student says, 'I'm going to apply to five more places,' we'd like this data to help them pick the five places where they are more likely to match and where they're going to be more successful and happy."
A version of this story first appeared in June 2017.