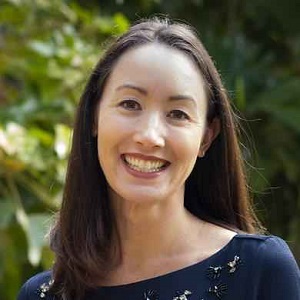 Julie Inouye
Executive Director of Development, John A. Burns School of Medicine and UH Cancer Center 
University of Hawaii at Manoa
We caught up with Julie Inouye to discover more about her, what she's up to, and what we can learn from her.

Briefly describe your current role.
I oversee the fundraising team at JABSOM and the UH Cancer Center. My main responsibility is to raise private support for all areas, including students, faculty, programs, etc.
Briefly describe your career journey and what led you to institutional advancement in academic medicine.
For the first 16 years of my professional career, I worked as a financial planner. I liked the field and worked with wonderful people, but I had a desire to try something else. A friend of mine introduced me to a friend who happened to be a fundraiser. We had coffee and that ended up being an informal interview for her job! Nine months later, I was in her old office starting an entirely new career. I have no regrets!
What achievement in your current job are you proud of?
I am most proud of the medical school faculty and leadership willingness to give us their time and talent. Without the support from the content experts, it's terribly difficult to raise substantial gifts. This willingness did not happen overnight; we had to earn their trust and prove our ability to tell their story with authenticity and sincerity. Ultimately, our team was able to demonstrate how philanthropy could make a big impact for the school.
What success have you achieved with limited resources?
We are a very small school, but we know how to pull our resources together to deliver a high impact proposal.
What is a challenge that you/your unit/your institution are/is facing and how are you addressing it?
Our biggest challenge is to raise money for medical research. Historically, our fundraising efforts and success have been around medical education. This shift presents new opportunities, but the biggest challenge is shining the light on the uniquely exceptional research we do for our community.
What innovation or trend in the field inspires or motivates you?
I'm fascinated by how quickly AI is being brought to the masses. I am using it in my daily life for learning and writing. Integrating AI into our work is exciting, but I am also cautiously optimistic that we as a society can learn how to use the technology for the betterment of all.
What is the best career advice you were given and how have you used it?
Not to be afraid of taking risks. Disruption can be a good thing—being uncomfortable means you're growing. I have taken risks by taking on projects or responsibilities I had not done before. I was unsure of what was possible, but without trying and possibly failing, I would have never grown.
What advice do you have for other institutional advancement professionals in academic medicine? Have confidence in the skill set you bring to the team. Working alongside brilliant minds can be incredibly intimidating, but your talents as a fundraiser are critical to connecting donors to the impact they want to have. Our role is connecting people and organizing ideas into fundable proposals; it's important our academic partners trust the value we bring to the team.
---

We want to shine the light on you! Please submit information about yourself or share this with another GIA member to help you connect, share stories, and highlight best practices. Learn more.