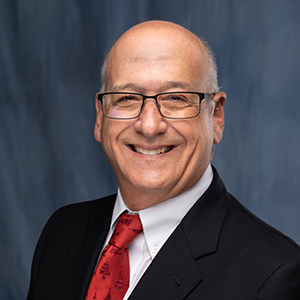 Gary Mans
Assistant Vice President, External Communications 
UF Health

We caught up with 2023 GIA Distinguished Service Award recipient Gary Mans to discover more about him, what he's up to, and what we can learn from him.
Briefly describe your current role. 
Succinctly, I am charged with our team telling the UF Health story externally. This encompasses media relations, publications, and collaborating with marketing and public affairs (government relations), as well as our development colleagues. 
Briefly describe your career journey and what led you to institutional advancement in academic medicine.
I truly grew up in academic medicine. My father was a biochemist at the University of Florida. My first published article was about his research. I was on a parallel track with academic medicine and sports reporting. Some bad neighborhoods and the middle of the night helped me decide on a career in academic medicine. I was lucky enough to experience all facets of strategic communications and was introduced early into GIA, which solidified my career choice.
What is the best career advice you were given and how have you used it? 
The best career advice I received was to be fearless. In other words, make decisions. Understand the potential ramifications (good and bad) and move forward. The worst thing you can do is stand still.
What advice do you have for other institutional advancement professionals in academic medicine? 
Be flexible. Stay current. Develop a trusted network. Enjoy the ride.
---

We want to shine the light on you! Please submit information about yourself or share this with another GIA member to help you connect, share stories, and highlight best practices. Learn more.