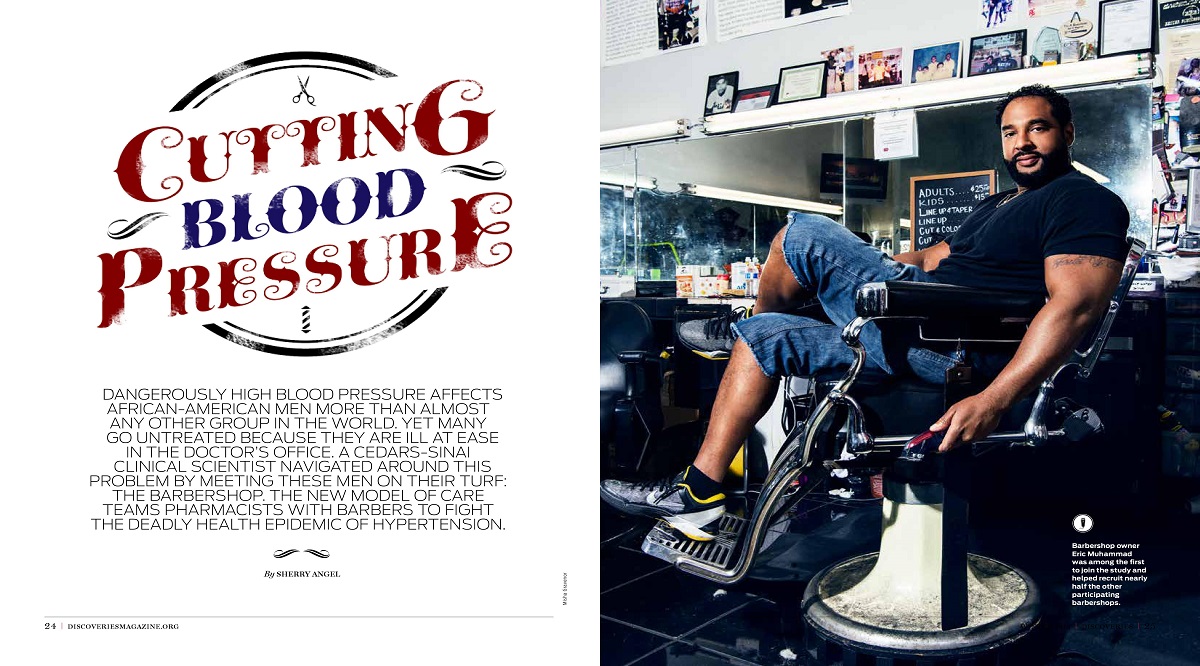 "Cutting Blood Pressure," Discoveries Magazine
By Sherry Angel
Cedars-Sinai
"Nothing brings Xavier Chavis more peace than cruising through the larger-than-life landscape of California's coastal Highway 1 on his shiny Harley-Davidson bike.
"With the wind on his face and the 'craziness of L.A.' behind him, he can think clearly and put things in perspective.
"'There's no traffic, no smog, no skyscrapers. I get in line with nature,' he says. 'You can solve all your problems out on the open road. Just go down your list.'
"The Compton resident recently turned 50 …
"'When you reach this age, it gets real serious health-wise. Now I really have to watch it if I want to live long and keep riding my Harley,' says Chavis, who has hypertension and Type 2 diabetes.
"As his milestone birthday approached, he found the help he needed in an unexpected place — at the barbershop a mile from home, where he'd been getting his hair cut for years."
Dangerously high blood pressure affects African American men more than almost any other group in the world. Yet many go untreated because they are ill at ease in the doctor's office. A Cedars-Sinai clinical scientist navigated around this problem by meeting these men on their turf: the barbershop. The model of care teams pharmacists with barbers to fight the deadly health epidemic of hypertension.
What was the biggest challenge in writing about this topic?
We wanted to explore the cultural barriers that can prevent African Americans from accessing health care. The study we were writing about navigated these barriers, and it was important to understand and explain them.
What was the most impactful part of your award-winning entry?
Sadly, the physician conducting the research, Dr. Ronald Victor, passed away while we were writing the story. Those who worked with him, his patients, and his family members received copies of the magazine and many expressed pleasure at seeing his legacy honored.
Contact
Sarah Spivack LaRosa, sarah.spivacklarosa@cshs.org