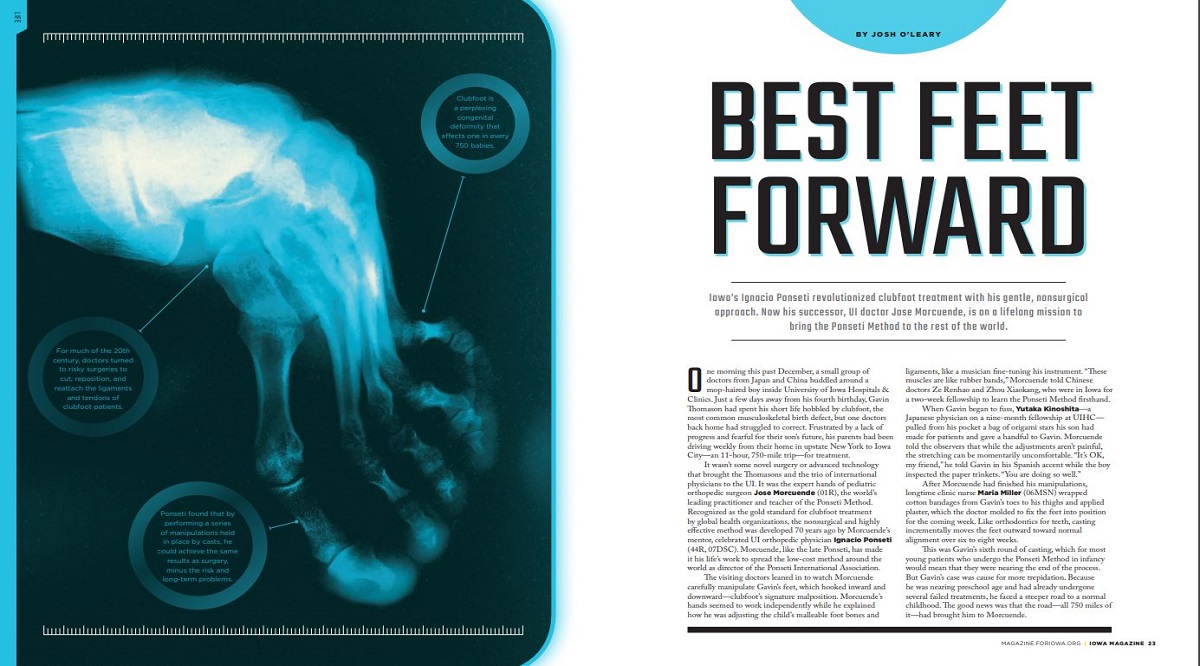 "Best Feet Forward," Iowa Magazine
By Josh O'Leary
University of Iowa Center for Advancement
"One morning this past December, a small group of doctors from Japan and China huddled around a mop-haired boy inside University of Iowa Hospitals & Clinics. Just a few days away from his fourth birthday, Gavin Thomason had spent his short life hobbled by clubfoot, the most common musculoskeletal birth defect, but one doctors back home had struggled to correct. Frustrated by a lack of progress and fearful for their son's future, his parents had been driving weekly from their home in upstate New York to Iowa City—an 11-hour, 750-mile trip—for treatment.
"It wasn't some novel surgery or advanced technology that brought the Thomasons and the trio of international physicians to the UI. It was the expert hands of pediatric orthopedic surgeon Jose Morcuende, the world's leading practitioner and teacher of the Ponseti Method. Recognized as the gold standard for clubfoot treatment by global health organizations, the nonsurgical and highly effective method was developed 70 years ago by Morcuende's mentor, celebrated UI orthopedic physician Ignacio Ponseti. Morcuende, like the late Ponseti, has made it his life's work to spread the low-cost method around the world as director of the Ponseti International Association."
Iowa's Ignacio Ponseti revolutionized clubfoot treatment with his gentle, nonsurgical approach. Now his successor, UI doctor Jose Morcuende, is on a lifelong mission to bring the Ponseti Method to the world. In the Spring 2019 issue of Iowa Magazine, we celebrated Ponseti's legacy and followed Morcuende as he heals children at home and abroad while training an international network of Ponseti Method providers.
What was the biggest challenge in writing about this topic?
It was challenging to convey the Ponseti Method's impact on an individual level and a global level. To do so, I weaved together the story of one young clubfoot patient with accounts from Ponseti-trained doctors working overseas.
What is one thing you learned from this experience?
Researching and reporting this story taught me how the compassionate vision and determination of a single doctor can better the lives of tens of thousands of children around the world.
Contact
Josh O'Leary, josh.oleary@foriowa.org