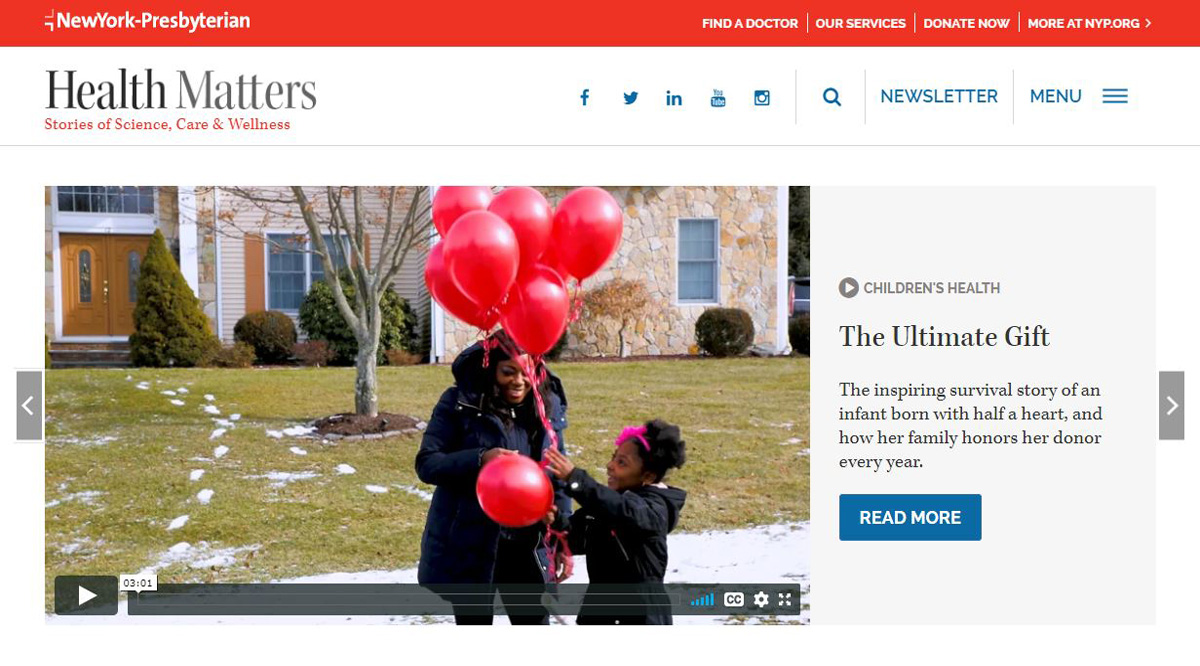 NewYork-Presbyterian's Health Matters
NewYork-Presbyterian Hospital
NewYork-Presbyterian's Health Matters is an online platform created as a place to share the remarkable stories of science, care, and wellness that are happening every day at NewYork-Presbyterian, one of the nation's most comprehensive health care delivery networks. Through compelling videos, audio recordings, written stories, animation, and graphics, Health Matters features the latest news and insights from our world-class physicians, nurses, and experts; inspiring first-hand accounts from patients and caregivers; and updates on the latest research and innovations in patient care, all in collaboration with our academic partners, Columbia University Irving Medical Center and Weill Cornell Medicine.
What was the most impactful part of your award-winning entry?
Having the opportunity to tell such inspiring stories has been extremely rewarding. We like to say we have "an embarrassment of riches" when it comes to amazing stories here at NewYork-Presbyterian, and we are so honored to have the chance to share them with the world through the Health Matters platform.
What challenge did you overcome?
Working in a health care setting, there are many stakeholders to consider, and that can sometimes mean that things don't happen as fast as one might like. We've learned to be flexible and creative in order to continue moving forward and regularly produce high-quality content for our various audiences.
Contact
Jordan Reed, jor9192@nyp.org