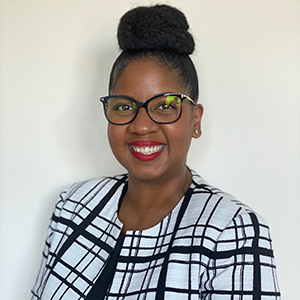 Tamara N. Poulson
Director of Alumni Relations 
Eastern Virginia Medical School
We caught up with Tamara Poulson to discover more about her, what she's up to, and what we can learn from her.
Briefly describe your current role.
As Director of Alumni Relations, I build meaningful relationships with alumni through a comprehensive engagement program that provides opportunities for volunteerism, personal and professional development, and events and programs. These relationships enhance loyalty, dedication, and support for EVMS from alumni.
What achievement in your current job are you proud of?
During the pandemic, my team had to quickly shift to providing meaningful and relevant engagement opportunities virtually. We expanded our Mock Interview program to provide virtual interviews to our School of Medicine and School of Health Professions students. This allowed us to engage several new alumni. We also created new opportunities for students and alumni to network online. 
What success have you achieved with limited resources? 
By fostering collaborative and cooperative relationships with other departments within the school, I have been able to significantly expand the outreach to alumni and students. This cross-departmental synergy has led to increased financial and volunteer support for the institution. 
What is the best career advice you were given and how have you used it? 
The field of institutional advancement is dynamic, so don't be afraid to try and fail at new ways of engagement. This advice has led me to think bigger than my budget, be creative with my resources, and listen to my losses. 
What advice do you have for other institutional advancement professionals in academic medicine? 
Your network of institutional advancement professionals in academic medicine is one of your most valuable resources. Build relationships with these colleagues. Being a member of the GIA is a great start! 
 
---

We want to shine the light on you! Please submit information about yourself or share this with another GIA member to help you connect, share stories, and highlight best practices. Learn more here.