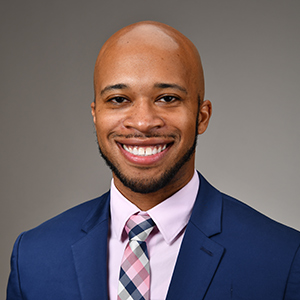 Derrick Miller
Senior Director, Annual Giving and University Alumni Engagement
UTHealth Houston
We caught up with Derrick Miller to discover more about him, what he's up to, and what we can learn from him. 
Briefly describe your current role.
In my role, I lead the design and full implementation of a comprehensive, university-wide annual giving and alumni engagement program. I serve as a consultant to deans, faculty, and staff regarding student, parent/family, and alumni engagement, as well as build and secure philanthropic support for a variety of institutional programs and priorities. 
What achievement in your current job are you proud of? 
I'm really proud of the creation of our Alumni Student Network (ASN). My former boss, Dr. Mark Chassay, and I both came from a previous institution where students were heavily involved in alumni engagement work. We wanted to create a student organization at McGovern Medical School at UTHealth Houston that would allow students to act as advisors for alumni engagement work, serve as volunteers for alumni events, and gain mentors and direct access to our alumni through their involvement in the organization. I'm proud to say we started the organization over six years ago and alumni and students love it. I am now working to expand the organization across the entire UTHealth Houston campus so that each of our six schools have similar groups, as well as a central advisory council with representatives from each group. 
What success have you achieved with limited resources? 
One thing I'm extremely proud of that was accomplished with limited resources was the establishment of our annual scholarship reception. In my previous work in scholarships and donor relations at Texas Exes, I learned the importance of connecting scholarship donors with their recipients, so I was excited to bring that experience to UTHealth Houston. After a few years of establishing a more engaged alumni board (along with a strong relationship with our Office of Student Affairs), I created an annual scholarship reception for alumni and other donors to meet scholarship recipients and understand the impact of their giving on the lives of students. The first reception was very small and held in the home of a generous former alumni board member. Three years later, we are expanding it to a much larger venue and combining it with our School of Dentistry. The ultimate goal will be to have an institution-wide scholarship dinner for alumni, students, community donors, and friends. 
What is a challenge that you/your unit/your institution is facing and how are you addressing it?
Finding innovative ways to keep our young alumni engaged after they graduate, because they are so busy after they leave our institution, and establishing the importance of alumni participation in our fundraising efforts: Every gift makes a difference. Every time.
What is the best career advice you were given and how have you used it? 
"Say yes to the things that scare you." This has been great career advice for me because it reminds me to challenge myself and continue to grow in my career. I wouldn't have taken on the additional responsibilities of annual giving if I didn't follow this advice. I was afraid to add those responsibilities to my already full plate, but it allowed me to branch out and learn more about fundraising and how it is so closely related to the alumni engagement work that I've done for so many years. 
What advice do you have for other institutional advancement professionals in academic medicine? 
My advice to others is to work hard and seize opportunities when they arise. I also think it's extremely important to surround yourself with colleagues and mentors who will push you to be innovative. In the world of alumni engagement and annual giving, things are constantly changing, so being flexible and innovative are vital to our success. 
---

We want to shine the light on you! Please submit information about yourself or share this with another GIA member to help you connect, share stories, and highlight best practices. Learn more here.