AAMC Senior Director of Workforce Diversity Norma Poll, PhD, presented at a July 19 congressional briefing sponsored by the National Hispanic Medical Association (NHMA) on the urgent need to increase diversity and Hispanic/Latino representation within the health care workforce. Speakers discussed the importance of diversity, representation, and the need to create more pathways into the health care industry.
Speakers at the briefing included:
Elena Rios, MD, MSPH, president and CEO, National Hispanic Medical Association.

Rep. Raul Ruiz, MD, (D-Calif.).

Carole Johnson, administrator, Health Resources and Services Administration.

Noel Candelaria, secretary-treasurer, National Education Association.

Xavier Becerra, JD, secretary, Health and Human Services (HHS).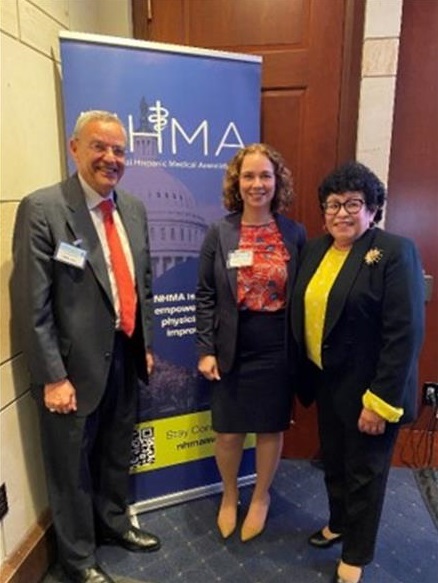 Poll emphasized the significance of enhancing Hispanic/Latino representation in the medical field, the urgent need to promote health care diversity, and the advantages diversity presents in the workforce and educational environment. In addition, Poll highlighted the AAMC's support of immigration policies that would diversify and strengthen the health workforce.
Ruiz emphasized the need for a diverse health workforce and pointed to the improved health outcomes derived from a workforce that reflects the community they serve. Johnson discussed the health care successes of President Joe Biden's American Rescue Plan and addressed the challenge that would arise from the House Labor-HHS-Education Appropriations Subcommittee proposed FY 2024 bill on Title VII diversity programs.