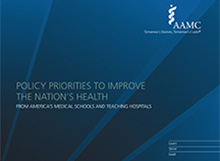 Academic medicine is central to the future of health care in this country. As the only place where medical education, patient care, and medical research come together, medical schools and teaching hospitals are uniquely positioned to help shape policies that will improve the health of all Americans. 
Toward that end, this transition briefing book  is intended as a resource for the new Congress and the new administration, outlining the key challenges and opportunities facing academic medicine. Additionally, each section highlights complementary resources and reports, along with the appropriate AAMC staff contacts per issue. The AAMC is committed and looks forward to working with policymakers to advance the dozens of issues on our collective agenda to strengthen the nation's health and well-being.
Below you will find our welcome letter to President-elect Trump and a printable pdf version of each issue addressed in the book.
Welcome Letter 
Part 1: Medical Education
Part 2: Medical Research and Innovation
Part 3: Health Care
Part 4: Resources