Elizabeth Coakley
Acting Chief Human Resources Officer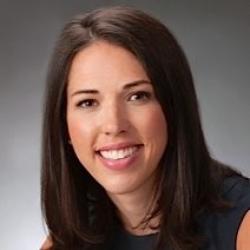 Elizabeth Coakley leads the AAMC's overall human resources function, which includes people, leaders, and culture.
As senior director of talent management, Elizabeth Coakley is responsible for the development and implementation of strategies and processes that enhance the people capabilities of the AAMC. Coakley's team is comprised of talent acquisition, learning and development, and the human resources business partners. She joined the AAMC in 2009 as a program specialist and has served as the director of the AAMC Group on Medicine and Science and the director of learning design and development before taking on her current role within human resources. She was named acting chief human resources officer in May 2023.
Coakley has spent her professional career helping both individuals and organizations reach greater levels of effectiveness in a variety of not-for-profit organizations, including medical education and secondary education settings. Her primary areas of expertise include talent management, learning design and development, leadership development, and designing and leading organizational initiatives.
Coakley earned her bachelor of arts in psychology from Gettysburg College and her master of arts in human growth and development with a concentration in higher education administration from The George Washington University. She is currently enrolled in Georgetown University's Organizational Development Consulting and Change Leadership certificate program and expects to complete the program in October 2023.