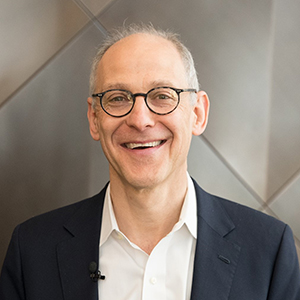 Ezekiel J. "Zeke" Emanuel, MD, PhD
Vice Provost for Global Initiatives
Chair, Department Medical Ethics and Health Policy
Co-Director, Healthcare Transformation Institute
Levy University Professor
Perelman School of Medicine and the Wharton School
University of Pennsylvania
Few physicians have had as demonstrable an effect on improving the health of Americans in the 21st century as Ezekiel J. Emanuel, MD, PhD, vice provost for global initiatives at the Perelman School of Medicine at the University of Pennsylvania.
As special advisor on health policy to the Office of Management and Budget from 2009 to 2011, Dr. Emanuel was instrumental in the drafting and early implementation of the Affordable Care Act (ACA), the nation's most sweeping health reform in decades. He was engaged in the design of the health care exchanges and subsidies, the creation of the Centers for Medicare and Medicaid Innovation (CMMI), the Patient Centered Outcomes Research Institute (PCORI), and more. During this time, he also supported the White House's efforts to elevate the importance of nutrition and exercise and was one of four people who helped develop the first lady's Let's Move initiative.
A renowned bioethicist, Dr. Emanuel has also indelibly shaped clinical research ethics. As founding chair of the Department of Bioethics at the National Institutes of Health (NIH) for 14 years, Dr. Emanuel led the creation of a training program for bioethicists and oversaw a department that published papers that transformed research ethics. He also initiated the revision of the Common Rule, which brought significant reform to regulations in research involving human subjects, and he was integral to crafting the latest Declaration of Helsinki, the World Medical Association's policy statement on medical research involving human subjects.
Dr. Emanuel's scholarship revolutionized end-of-life care in America. He is credited with ushering in the now-routine advance care planning, which was far from routine when he began working on the issue in the 1980s.
Dr. Emanuel has authored or edited 14 books and hundreds of peer-reviewed publications, and he is the most cited bioethicist. He is also a regular contributor to popular news media, well-known by many households in America as a passionate, and sometimes provocative, physician rallying the nation to heed important health advice.
Dr. Emanuel completed his bachelor's degree at Amherst College, obtained his master's in biochemistry from Oxford University, and earned his MD and his PhD in political philosophy at Harvard University. He completed his internal medicine residency at Beth Israel Hospital and a fellowship in medical oncology at the Dana-Farber Cancer Institute. He previously held a faculty appointment at Harvard Medical School.