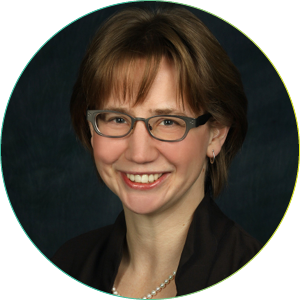 Valerie J. Lang, MD, MHPE
Associate Professor of Medicine
Senior Associate Division Chief, Hospital Medicine
Director, Faculty Development
Director, Meliora in Medicine
University of Rochester School of Medicine and Dentistry
For the past two decades, Dr. Lang has embodied meliora — the Latin motto of the University of Rochester, which translates to "ever better" — by seizing every opportunity to create an even more outstanding medical student experience.
Her pioneering work with students spans major contributions to curriculum development and underscores her well-recognized teaching acumen. As associate professor of medicine at the University of Rochester School of Medicine and Dentistry, Dr. Lang led the design and implementation of a groundbreaking two-year course and four-year thread in the medical student program called Meliora in Medicine. It combines health systems science with other disciplines, such as professional identity formation, collaborative practice and teamwork, and the humanities, as well as technology in medicine. The curriculum touches on important subjects such as wellness and resilience, emotional intelligence, leadership, and telehealth.
She also co-led the development of national online virtual-patient courses, via Aquifer Internal Medicine and Aquifer High Value Care, and directs the Clinical Decision-Making Exam team — and, given the national shift toward virtual learning amid the global pandemic, this work took on special importance over the past year.
A beloved educator, Dr. Lang has brought topics such as "racism and health care" to life for her students, earning accolades such as, "She excels at challenging students to achieve their utmost potential." At the same time, students laud her kindness and approachability, noting, "She clearly cared about us students and our learning experience." As she tells students, "It's great to have a career plan but also to allow for serendipity and unexpected opportunities."
Dr. Lang has explored several different roles herself. She has contributed through leadership positions at the medical school, including as chair of the school's Third- and Fourth- Year Instruction Committee and as a member of its Curriculum Steering Committee. She directed the medicine clerkship for 13 years and leads a faculty development program to support her colleagues' growth as medical educators, clinicians, and scholars.
She has also contributed nationally through her involvement in organizations such as the Alliance for Academic Internal Medicine/Clerkship Directors in Internal Medicine and the Aquifer Consortium. In fact, she received two awards from the Clerkship Directors in Internal Medicine: the Ruth-Marie E. Fincher, MD, Service Award and the Louis N. Pangaro, MD, Educational Program Development Award. She also earned the Jules Cohen Dean's Teaching Fellowship from the University of Rochester School of Medicine and Dentistry to support educational innovation.
A long-time resident of Western New York, Dr. Lang received her MD from SUNY Health Science Center at Syracuse (today's SUNY Upstate Medical University) and completed her residency in internal medicine at the University of Rochester Medical Center. She received her master of health professions education degree from the University of Illinois at Chicago.
LEARN MORE ABOUT THE ALPHA OMEGA ALPHA ROBERT J. GLASER DISTINGUISHED TEACHER AWARD